Logistics & ops
/ 10 min read
Turn Shopify returns into upsell opportunities

Rudi Eihenbaums
May 22, 2023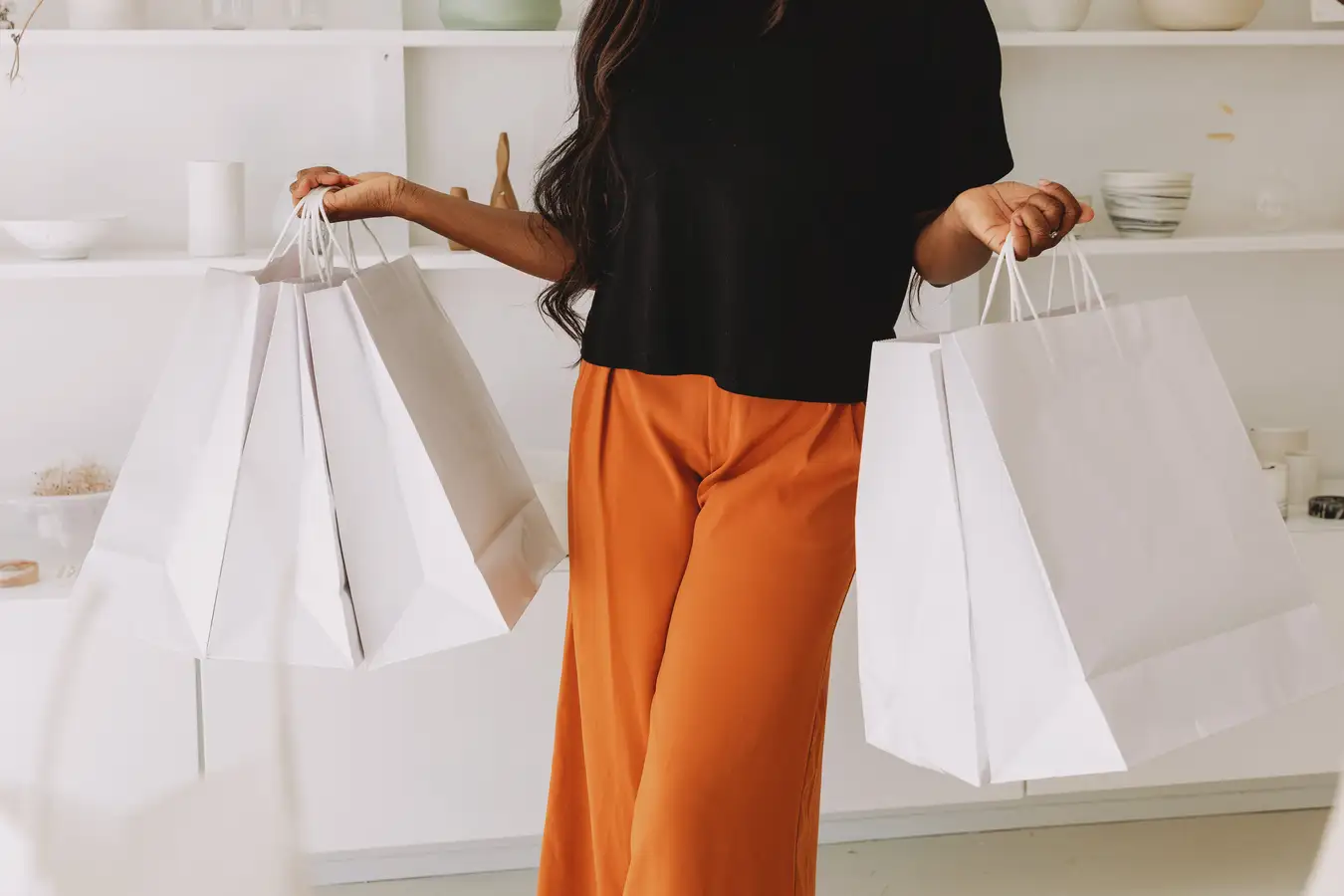 When running an e-commerce store, the journey doesn't end when customers receive your product. Returns and exchanges are inevitable. There's a delicate balance between providing excellent customer service and maintaining profitability.
We recently had a chat with Eamon Davis, a specialist in customer experience, on his tips and returns solutions. Eamon is a Business Operations Manager at OpenStore, which operates the largest number of Shopify stores in the world.
How to handle returns & exchanges
Every e-commerce business deals with returns, but the most successful ones turn these potential negatives into positive experiences. 
Eamon Davis shares his #1 tip on how to deal with customer returns on Shopify, applicable to any e-commerce store:
"Our core philosophy is to maximize customer experience — within operational or financial limits."
Good customer service can help reduce customer frustration and, in many cases, even turn a return or exchange into another sale. This advice is also built from the experiences of many Shopify entrepreneurs and founders whose stores make up OpenStore's brand portfolio.
Develop an effective returns strategy
Creating a clear and concise return policy is a great start, but don't stop there. Creating a great returns strategy involves aligning it with your overall customer experience (CX) strategy.
Businesses should think holistically about how they interact with customers across marketing, sales, and fulfillment.
For example, if your return policy doesn't align with the standards and tone you've set in your social media advertising, it's time to make some adjustments.
Innovative Shopify returns management 
A great strategy goes beyond just accepting returns—it uses returns as an opportunity.
"The big push in returns tooling right now is to drive upsells and optimize for exchange or store credit instead of returns," Eamon explains.
For example, OpenStore's returns partner, Loop Returns, offers incentives to customers from their return requests, effectively turning a potential loss into an upsell opportunity. 
On the logistics side, Happy Returns is a way to significantly reduce your returns costs. These services leverage a network of drop-off locations across major cities in the US to accept and aggregate returned items, reducing the operational costs associated with reverse logistics. Also, not needing to print the return label is a clear benefit to your customers.
Turn returns into opportunities 
When handled correctly, returns and exchanges don't have to be a drain on your business. With upselling strategies and customer-centric policies, you can maintain customer loyalty and possibly make an additional sale.
Eamon highlights the cost equation between returns versus exchanges:
"In almost every scenario, an exchange is favorable because we retain revenue from the first transaction. A return, on the other hand, involves handing gross sales back to the customer, so they are almost always more costly."
Understanding your customers' post-purchase behavior through analytics — tracking returns, customer support requests, or reviews — can help you understand their mindset.
Note that mindset will vary across your target buyer personas, so pay close attention to how you word your returns policies, automated responses, and keep a friendly but firm tone in emails or messages if you have to get involved in the process manually.
Best practices to reduce Shopify returns 
Reducing returns is about building proactive messaging into your Shopify store's communication strategy. Eamon shares:
"Examples like improved size guides, better product specs, onboarding videos, optimized pricing, and excellent branding are all the best returns reducers because they're proactive cures rather than responsive remedies."
Must-have ways to reduce returns:
Product quality control measures

Accurate, detailed product descriptions (also great for SEO)

High-quality images, from multiple angles

Detailed sizing guide
Nice-to-haves:
There are also virtual fitting room tools that use augmented reality. While these are appearing more and more in 2023, think twice before getting to this instead of ironing out some of the above, as Eamon reminds us: 
"People don't expect it en masse yet. Eventually, as this becomes the norm, it could outweigh product descriptions and size guides."
While some of these elements require investment, the payoff comes in the form of fewer returns and increased customer satisfaction.
Overcome logistics challenges in managing e-commerce returns
Here are the key logistics challenges many Shopify stores encounter:
Understanding your current inventory with pending returns.

Difficult and expensive inspections on returned products.

Complicated coordination of return shipping (especially for drop-shipped products).

Implementing product quality controls when you don't control manufacturing.
How you overcome these issues will be very specific to the nature of your supply chain. For some, it may involve collaborating directly with your fulfillment or third-party logistics (3PL) partners.
Or it could be as simple as setting up a PO box for drop-shipping returns, or as labor intensive as moving to another supplier or manufacturer with whom you can establish better QC/QA metrics early on.
Inventory management
How can you process returns in your Shopify storefront? How long will it take? How and when can I resell returned products?
Likely, a simple cancellation in Shopify admin can kick this process off. But in the big picture, make sure that you have a good oversight of your inventory. You want to avoid problems with logistics.
For example, when you want to resell returned items, Eamon advises understanding your return rates and restock rates on a SKU level.
"It really depends on your products. Some things are much more restockable than others. For things that cannot be restocked, you should reflect that via a more strict returns policy. For things that can be restocked, you will need to determine the restock cost as a new variable in your contribution margin equation.
Be wary of the fallacy that any item sold is a win. In this case, lower margin used items might be cannibalizing higher margin new inventory. If you can find a way to maintain high margins on restocked items through pricing and process optimization, restocking is a great way to reduce waste and mitigate inventory purchases."
Leverage apps & tools for handling returns 
Returns are time consuming, so automation is critical in your e-commerce returns solutions.
Eamon explains that the decision-making process of returns and exchanges are often a binary choice: either they fit or don't fit your store's returns policy (template).
"Automating as much of the decision engine as possible allows us to minimize customer support time and the costs for managing returns."
Automated restocking and analytics tools play a critical role in streamlining the returns processes and gaining insights into returns performance.
OpenStore has used several third-party logistics (3PL) solutions for inventory management and also reverse logistics. The primary 3PL solution integrates with Loop Returns and offers an API, on top of which OpenStore's engineering team have built an in-house order management and inventory synching system. This system helps OpenStore get a 360° view of logistics and reverse logistics. Michael Brod from OpenStore's fulfillment and business operations department explains:
"Using our systems, integrations with our 3PL and Loop Returns, we can constantly evaluate returns fees, returns policies, and returns strategies on a brand and SKU-level basis."
Real time monitoring of everything to do with returns turns Shopify stores into growth machines.
Returns are important post-purchase behavior data
Returns are not merely a cost of doing business, they're also a valuable source of feedback to improve your offering:
"Returns are expressions of customer feedback. In a sense, returns can be considered amongst the most tangible and costly results of poor customer experience."
Post-purchase cognitive dissonance often arises when a customer questions their purchase decision after it's made — leading to returns or exchanges.
Eamon adds that if you gather data on why customers are making returns, you can begin to understand what is broken and where improvements can be made.
A return or an exchange might not just be about a product that didn't fit or meet expectations. It might also indicate a customer's regret about their choice of style, color, or variant.
This cognitive dissonance can serve as an opportunity. Offering an exchange or a discount on a different style or color — instead of just a return — could turn a potentially negative experience into a positive one, for both your business and the customer.
Take a proactive approach to customer service, build trust, and align all customer interactions with your brand's promise to avoid risking cognitive dissonance.
What about free returns?
While offering free returns can improve customer loyalty and can be a marketing tactic, it's difficult to measure if this offsets the associated return shipping and product costs. 
Interestingly, Eamon points out that customers tend to review the return policy only when they're actively making a return. 
As long as the return policy is reasonably aligned with market norms, and customers are not voicing complaints about your policies in reviews or public forums: for many e-commerce brands, there's not a strong correlation between cart abandonment and offering a free return policy.
Don't rush to implement a free returns policy for your Shopify store without ample testing. Try it with specific SKUs first before rolling it out store-wide. Clarify the SKUs clearly in your returns policy.
Handling fraudulent returns 
There's a balance to be struck between offering hassle-free returns on your Shopify store, versus best practices for handling fraud.
But it might not always be fraudulent. If an individual has found a loophole to somewhat take advantage of your return policy, you should adjust policies to close that loophole and prevent that behavior. But consider the impact to your brand overall, as Eamon reminds us this is what could have been driving your growth in the first place:
"If you have high customer retention, you have likely achieved that upstream from delivering a disruptively loose return policy."
When it comes to fraud that actually eats into your bottom line, Eamon recommends a solid inspection process for returned items, serving as a clearing station before refunds are issued.
Set up guard rails to automatically flag customers who are returning at a very high rate and manually review cases of suspected fraud.
Draft a refund policy
An effective refund and exchange policy for your Shopify store is the first line of defense against fraud.
Eamon suggests keeping the language simple and straightforward:
What you can return

When can you return it

Key exceptions to the policy (such as any SKUs)

When you will be refunded
Consider the return policy of a leading OpenStore Shopify brand as a template to get you started:
Thanks for shopping at Jack Archer. If you are not entirely satisfied with your purchase, we're here to help.

You have 30 days from the date you received your item to submit a return request. To be eligible for a return, your item must be in the same condition that you received it, unworn/unwashed, with tags, and in its original packaging.

The following are not eligible for refund or exchange

- Final sales
- Gift cards
- Custom made products
- Intimate clothes (boxers)
- Gifts with purchase
- Exchanges are final

You can initiate a return by clicking here.

You will be responsible for paying your own shipping costs for returning your item. If you receive a refund, the cost of return shipping will be deducted from your refund.

Once we receive your item, we will notify you that we received it and inspect it. Once inspected, we will notify you of the status of your refund. If your return is approved, we'll initiate a refund to your original method of payment. You'll receive the credit within 3-5 days, depending on your card issuer's policies.
Invest your time
Building an efficient strategy for returns & exchanges strategy by understanding customer needs, using returns as key data points for customer feedback on your products and service. Reduce returns by being proactive with improved size guides, clear product descriptions, and onboarding videos.
While returns might seem like one of the many parts of running your Shopify store, your policies and processes can have a significant impact on your customer satisfaction and profitability. This takes a lot of work to get right. If you want to reclaim your time, consider OpenStore Drive, a managed service that turns your Shopify store into passive income.