Shopify marketing
/ 9 min read
SEO best practices for your Shopify store

Rudi Eihenbaums
May 15, 2023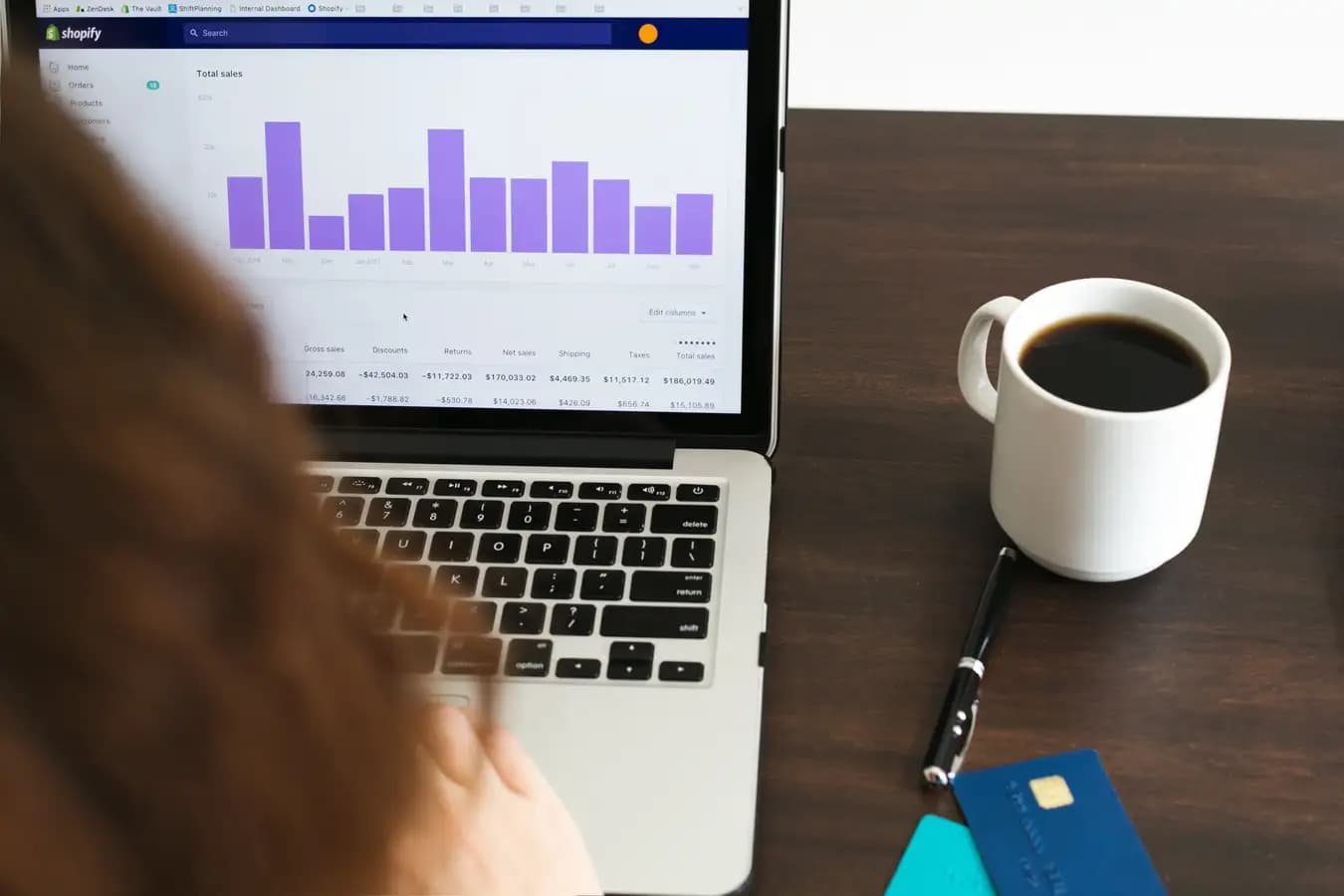 The role of search engine optimization (SEO) for Shopify stores is pivotal in boosting brand visibility and driving organic traffic.
These tips are compiled from OpenStore's e-commerce experience of running 50 Shopify brands and from the learnings of US-based Shopify founders. With over 10 years of SEO experience — working in-house at startups, at agencies with enterprise clients, and on my own businesses — I have curated the most impactful strategies that have consistently delivered tangible results in driving organic growth and revenue.
Organic traffic
How to get organic traffic to your Shopify store? Develop a well-rounded SEO strategy and deliver high-quality content that resonates with your target audience.
Before we dive into how to do that, remember that e-commerce experts remind us not to rely on a single channel for all of your traffic, but to employ a multi-channel strategy. Channels and marketing tactics that complement SEO particularly well include:
Content marketing: creating valuable content is key to attracting and retaining customers. For example, use Shopify's blogging platform to regularly post high-quality, keyword-rich content. It doesn't end there. Content types such as how-to guides, product guides, and fashion tips can provide value to your customers and also improve organic performance.

Email marketing and social media: build a subscriber base to drive traffic to new and evergreen content on your website. Leverage social media platforms that your target audience frequents.

User-generated content: encourage customers to share photos and reviews related to your products and embed them onto your site.

SEO-friendly video content: create product demonstrations or tutorials to enrich customer experience. Or run promotions to have your brand's fans create this for you. Embed videos into pages or blog posts for added SEO value: search engines love rich, multi-faceted content.

Collab with influencers or other brands: this can significantly boost traffic to your content.

Community building around your brand — such as on Reddit subreddits, Facebook groups, or Discord servers — can encourage returning customers, and a natural way to build traffic (but don't go around spamming your links — that can detract from your brand's perceived value).
Shopify SEO best practices
1. Do customer research first and keyword research after
Start by understanding your target customer audience. This involves developing detailed buyer personas to identify the needs, interests, and online behavior of your potential customers. Such an understanding is crucial for an effective Shopify DTC SEO strategy. 
Once you've understood your customer, dive into the search terms they use. For example, a menswear apparel brand may find that its target audience often searches for "sustainable men's clothing" or "ethical men's fashion brands."
Understanding search intent behind each keyword — whether transactional, informational, or commercial — can further refine your keyword strategy. For instance, a transactional search might be "buy sustainable men's clothing online," while an informational search could be "best sustainable men's clothing brands".
2. Keyword placement in Shopify admin interface
Avoid keyword stuffing: use them naturally in your content and headings. Overuse of keywords can harm your SEO, as search engines may perceive it as spammy behavior.
Write for users first. User-friendly content is more likely to be shared, increasing its visibility.
Start out with long tail queries: 
Target longer search phrases with less competition. These often convert better as they're more specific. For instance, instead of "men's pants," a menswear brand could target "men's tech pants".
Apply your learnings to product descriptions: 
Write unique, keyword-rich, and informative descriptions for your products — include FAQs and small details that your target audience is interested in. Fabric type, fit guide, care instructions, and the story behind the product.
Once you've mastered product descriptions, start thinking about top-level categories and how to group your products into keywords that your customers actually search for in your language and location.
3. Title elements
Another key place to use target keywords is in each page's title element. Otherwise known as title tags, they are essential as they give both users and search engines a quick overview of the page's content.
Each 'product title' in your Shopify store's admin panel will become the title element unless technically overridden.
Don't cram and spam. Ensure your title elements are:
concise (50-60 characters in length, although Google actually truncates them based on pixel length), 

include your target keyword(s), and

most importantly, appeal to your target customers.
Start off by creating long-tail title elements and see how you perform against competitors before you target more competitive, shorter keywords.
Each page and product title should be unique and clearly convey its purpose. For instance, "Cozy Pants That Fit Consistently by Jack Archer" is a good example of a page targeting a specific search query.
4. Meta descriptions
A compelling meta description can dramatically increase your click-through rate (CTR) from search engine results pages (SERPs). Much like title elements, the meta description comes from your product's description in the Shopify admin panel (you can also override this).
Incorporate relevant keywords and highlight what the reader will gain from the page. For example, for a product page, tease the unique selling points of the product, such as "Form-fitting tees that suit your every need – from work to play. Arrive with confidence, and look your best effortlessly."
There are other 'metafields' that Shopify uses, but while these are useful, they do not have a well-known impact on SEO like the title element and meta description, although adding additional product data is definitely encouraged!
5. Image alt text
Use Shopify's admin panel to improve image SEO. Write descriptive, user-friendly alt text. 
For instance, instead of "3 boxer benefits," describe what can be seen in the image or graphic, such as "fluffy soft stitching and gliding fabrics hug your midsection without any discomfort or annoying rubbing."
Avoid stuffing keywords and instead, aim for a natural description that benefits screen-reader users with visual impairments.
Shopify technical SEO
SEO is not just about content and keywords. A crucial aspect of achieving good performance in organic search is by ensuring the technical aspects of your site are up to par. 
Technical SEO is the process of improving your online store for the crawling and indexing phase. It's all about helping search engines interpret and understand your website's content. A key thing to note is that search engine robots aspire to mimic how a human user would view and understand your Shopify store.
6. Search & mobile-friendly theme
Most e-commerce customers now use their mobile devices to browse and shop, and this trend is only accelerating. Opt for a responsive, Shopify 2.0 theme to ensure mobile users have an optimal browsing experience.
Additionally, most of these themes also incorporate Schema markup. Schema markup is a semantic vocabulary of tags that you can add to your code (HTML) to improve the way search engines read and represent your page in SERPs.

It provides a powerful SEO opportunity that tells search engines exactly what your data means, not just what it says, which leads to more accurate search results and better reach to your target audience.
One of the key benefits of this added layer of information is the creation of rich snippets. Particularly valuable for e-commerce sites like Shopify stores, rich snippets are search listings that provide more detailed information than typical search results, such as: 
product price, 

availability, 

reviews,

articles,

videos, 

events,

and FAQs.
Test your Shopify store's URLs with Google's free rich snippets tool, and your theme does not generate them — you can either upgrade it, consider a third-party Shopify app, or follow this technical guide to get Schema added.
7. Site speed
Site speed is a key ranking factor for organic performance. Search engines want to offer their users the best possible experience. So, a fast, user-friendly Shopify site that significantly improves user experience will be rewarded with better rankings, which in turn can result in better conversions and sales. 
For example, a slow-loading site can increase bounce rates, leaving searchers dissatisfied and having to return to the search page. Google collects real-world performance data of your store and uses this value to rank your Shopify store.
You can test your Shopify store's speed with Google's PageSpeed Insights.
When it comes to your results. You may see that Shopify already leverages a fast, reliable content delivery network (CDN) to ensure that your site loads quickly for users globally.
However, having many, high-resolution images with big file sizes can slow down your site, negatively affecting user experience and SEO. 
Shopify's interface allows you to adjust image sizes, and OpenStore provides a free image optimization tool to streamline this process further before you upload them to Shopify.
8. Apps and SEO tools 
You can also use paid, third-party SEO tools to either fill in the features that are missing from the Shopify admin panel, or to arrange them in a way to your liking. However, none of them will do the heavy lifting for you that only comes from an arduous SEO strategy. 
Some popular apps include Yoast, Smart, Plug In, and Avada. Each offers unique features like keyword suggestions, readability checks, SEO audits, image optimization, and metadata editing.
Common problems
9. Why isn't my Shopify store showing up on Google?
If your Shopify store isn't appearing on Google, it could be due to various issues, including lack of indexation, site errors such as broken links, very slow loading times, or Google penalties.
Setting up Google Search Console can help monitor your store's performance and identify issues, allowing you to act fast.
Make sure that your store is visible to all search engines. You can do this by submitting your XML sitemap in, for example, Google Search Console and Bing Webmaster Tools.
Search engines may penalize sites that violate their guidelines. Common reasons for penalties include having duplicate content, unnatural links, or engaging in black-hat SEO techniques. Here's how to check if you've been penalized.
10. Thin content
Content that lacks considerable depth or that doesn't follow Google's quality guidelines, can negatively impact your SEO efforts. Some cases of thin content are even against Google's webmaster guidelines.
Create detailed, valuable content on product pages, providing comprehensive information that meets searcher and customer intent.
Some of Shopify's default pages — such as automated vendor, tag, type, and default collection pages — often present thin and duplicate content. Their existence is out of your control. You can attempt to enrich these pages with an advanced Shopify developer's help, however, often this is not worth the effort.
Instead, find these pages by searching for the following in Google, and replace the example.com domain with yours:
site:jackarcher.com inurl:/collections/all OR inurl:/collections/types OR inurl:/collections/vendors OR intitle:Collections
If a considerable amount appear, follow Shopify's guide on how to canonicalize them to the most relevant page instead.
11. Product variant & option limits
Shopify has a limit of 100 variants and 3 options (e.g. size, color, and style; or weight, finish and material) per product. This limit is challenging if you're selling products with numerous customization options.
One solution is to use a third-party app, while another is to create multiple products for each group of options and then use canonical tags in Shopify's interface to direct to the most authoritative product. 
Both approaches can help you display all your product variations to customers without creating unnecessary duplicates in SERPs.
12. URLs and internal links
All Shopify themes result in a less-than-ideal URL structure for SEO. For example, there will be duplicate internal links if a product is associated with a collection, and no easy way to remove '/products' from the URL entirely.
There are technical solutions around this, but generally, this is something you'll have to live with.
Launch your SEO efforts now
Mastering SEO for Shopify involves:
understanding the platform's unique features,

implementing a multi-channel strategy to earn and nurture organic traffic with Shopify email marketing, and 

resolving SEO issues on a monthly basis.
Don't forget the importance of customer research, thoughtful keyword use, content marketing, leveraging Shopify's SEO-friendly features, and maintaining a fast mobile-friendly Shopify theme.
13. Invest your time
Above all, remember that SEO is a long-term strategy. Clear goals, KPIs, and continuous learning are essential.
You can also take a year off from managing your Shopify store and its SEO. OpenStore Drive is a new offering that pays you passive income payments, while OpenStore's team grows your store for you.