OpenStore Drive turns your Shopify store into passive income

OpenStore Staff
Oct 12, 2023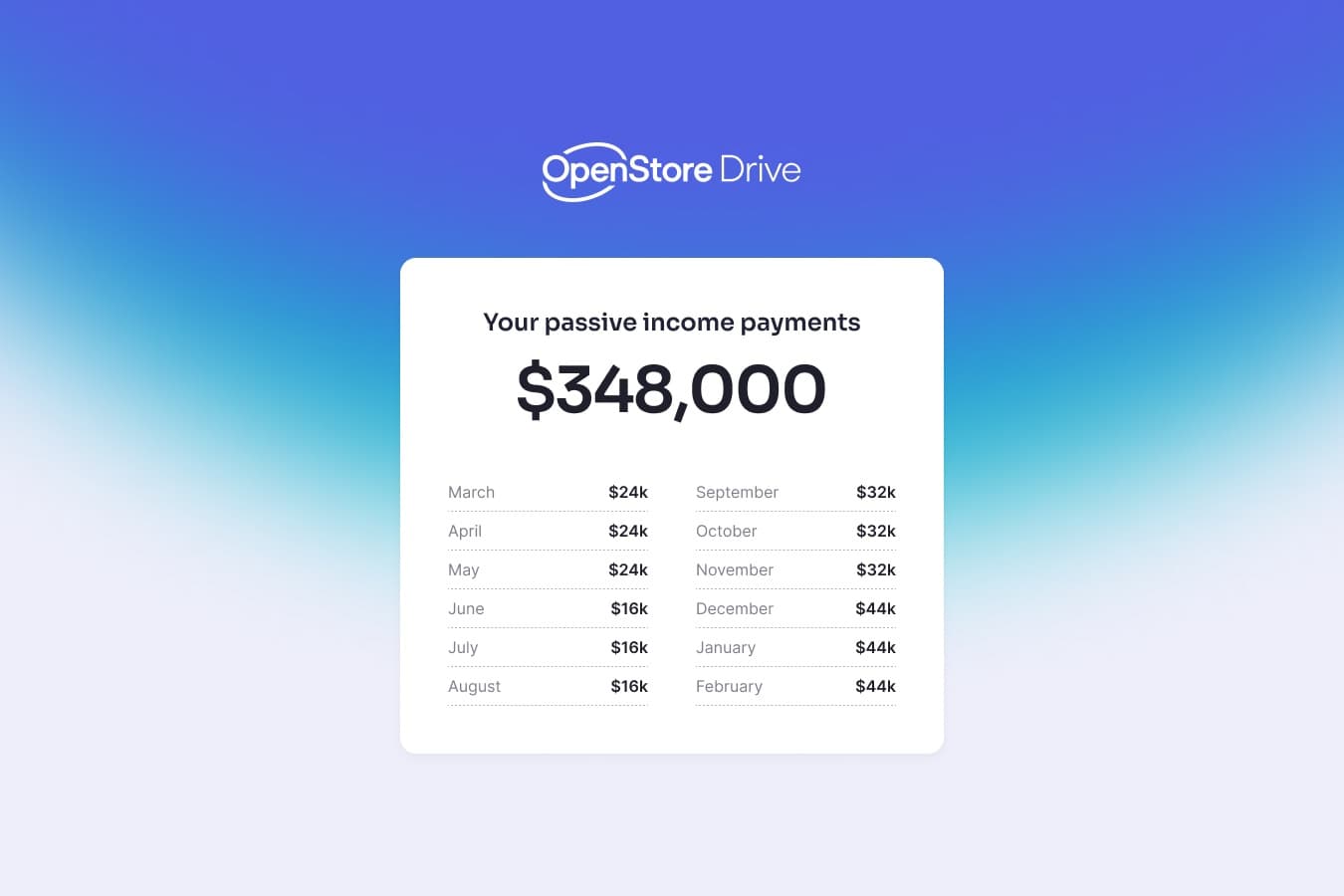 At OpenStore, we're supporting the millions of e-commerce entrepreneurs starting businesses on Shopify. Since launching, Shopify entrepreneurs all over the country have received millions of dollars in OpenStore liquidity, freeing them up to spend time with family, travel, or start something new. OpenStore's portfolio of acquired brands includes successful stores across apparel, home goods, beauty, and consumer electronics. Today, we operate the largest number of Shopify stores in the world.
While our acquisition offering is the fastest way to sell your store and move on entirely, many founders aren't ready to part ways with their stores quite yet, despite experiencing burnout.
The current economic environment is requiring a hustle that burned-out Shopify owners simply can't afford. As we explored ways to support even more Shopify founders, we met with people who are juggling multiple stores while others desperately need time with their families or to prioritize their health. 
Today, we're launching a more flexible option for Shopify founders, OpenStore Drive. Now, you can take a break from your store and receive passive income, all while maintaining ownership. Our team of experts will operate all aspects of your store, paying you passive income payments every month. Here's what you can expect from OpenStore Drive:
Your time back
Our team of experts will handle everything from marketing and customer support to fulfillment and inventory management, freeing up your time to focus on other businesses, start something new, or simply relax. 
Passive income payments, every month
You'll receive a fixed, monthly, passive income payment based on next year's projected profit. We pay you every month, regardless of any fluctuations in performance. In exchange for operating all aspects of your store, we charge a small management fee.
Peace of mind
Our team of e-commerce experts will leverage our scale, operating platform, and experience operating the largest number of Shopify stores in the world to drive down costs and increase profits. 
Maintain ownership
After 12 months, you can decide whether to continue with OpenStore Drive, sell your store, or resume day-to-day operations. 
Here's how OpenStore Drive works:
Connect your Shopify and ads accounts. Our team and analytics engine will forecast how much profit your store will generate in the next year, incorporating any trends in customer acquisition growth, average order value, customer repeat rate, and profit margins.
Get your customized OpenStore Drive proposal. If your store meets our qualification criteria, you'll receive an OpenStore Drive proposal within 1 day of applying. OpenStore Drive proposals outline 12 fixed, monthly, passive income payments, net of our small management fee. 
Lock in your passive income payments. Within 45 days, we'll transition your store to our team of e-commerce experts to start managing it, while you get paid monthly.
Quarterly check-ins. Our Concierge team will help you stay up to date on your store with quarterly performance check-ins. 
Alternatively, if you want to sell your store and move on entirely, you can always apply for an OpenStore acquisition offer. Our fast and easy acquisition process lets you get an offer in 1 day and cash in 2 weeks, without paying any legal or broker fees. 
We're honored to build for even more e-commerce entrepreneurs, and we hope that OpenStore Drive makes this the easiest year of owning a Shopify store.