Founders' stories
/ 4 mins
OpenStore Drive welcomes KNKG to our portfolio

Frank Kosarek
Oct 11, 2023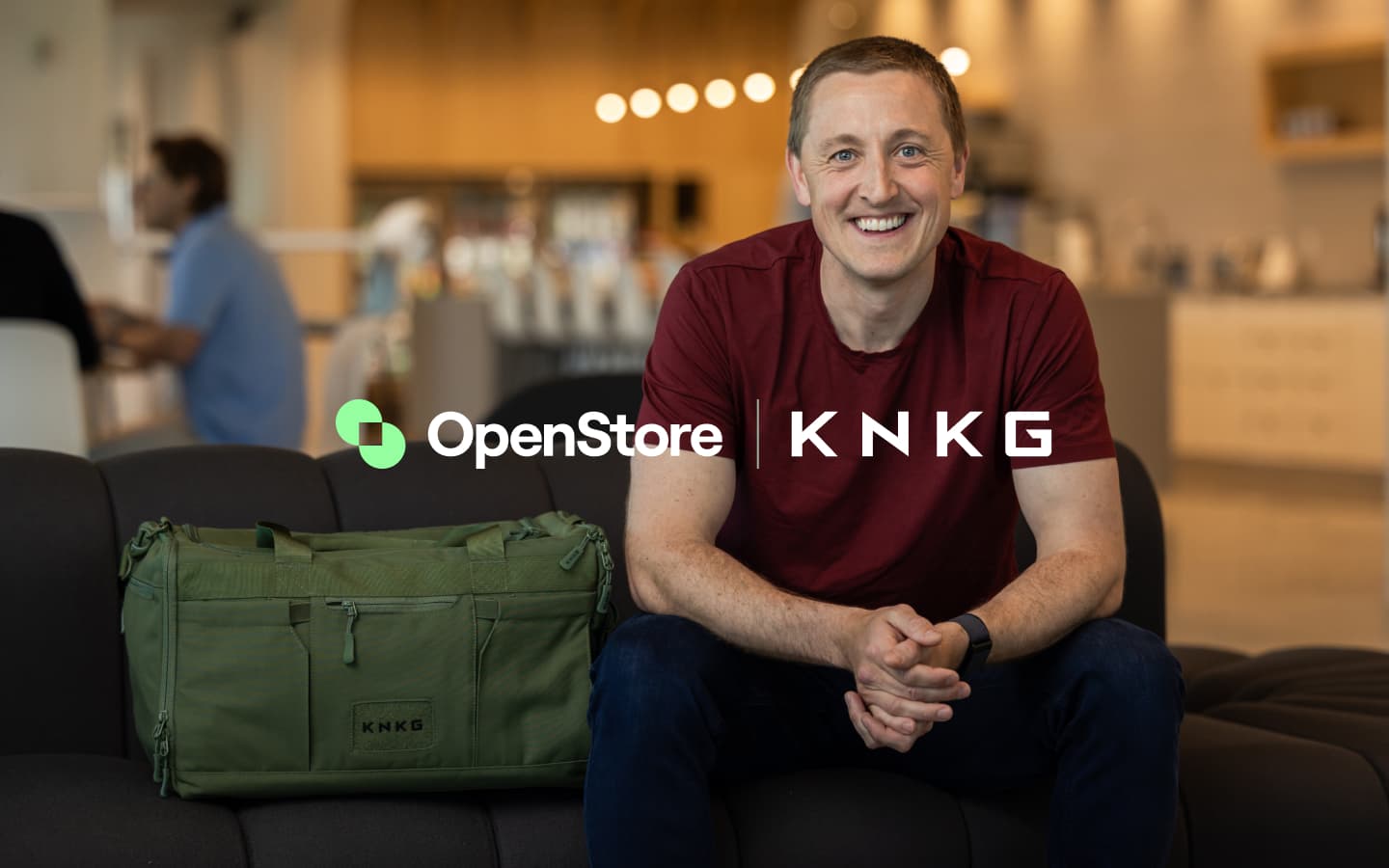 Stefan Gehrig, founder of KNKG, discovered OpenStore Drive when he was looking for potential acquirers. He was excited by the possibility of taking time off and getting paid, without actually selling.

Stefan started KNKG on the side while working in a research lab after obtaining his Ph.D. in muscle biology.

Stefan plans on starting a new business with his extra time: "Now that I'm not running KNKG, I expect to have a lot of free time...I'm just going to start another brand and see if I can offer something to OpenStore in the next year or two."
We're thrilled to announce our latest OpenStore Drive brand, KNKG. Founded by Stefan Gehrig in 2011 and based out of Melbourne, Australia, KNKG makes hugely popular gym bags and backpacks.
KNKG bags are "designed to transform packing for the gym from a mundane task to a pre-performance ritual to look forward to." After 13 years of scaling KNKG, Stefan got the itch to start another business. This sparked his research on various options and he ultimately discovered OpenStore. His interest was specifically in our OpenStore Drive offering, which would give him guaranteed income while he took a year off from running the store. 
The best part? Stefan would be able to maintain ownership over the company he created from scratch, while getting time to start a new business. 
From a Ph.D in Muscle Biology to Starting KNKG
Stefan first had the idea for KNKG during his days as an avid CrossFitter. CrossFit is a high-intensity workout that often requires you to bring different kinds of equipment to the gym. He wanted a gym bag that was both durable and functional for his workouts. So in 2011, with that in mind, Stefan started his own line of athletic bags, named King Kong after one of the most difficult CrossFit workouts (he since shortened the name to KNKG).
At the time, Stefan had just finished his Ph.D. in muscle biology from the University of Melbourne, where he focused on muscle-wasting diseases. He took a job at a research lab after graduating. While working at the lab, Stefan saw how pharmaceuticals are developed, which sparkedhis interest in entrepreneurship. Stefan started KNKG in his free time from the lab. 
To make the first KNKG bag, Stefan purchased samples from three manufacturers. He ended up taking a risk and spent $12,000 on 500 bags. Today, Stefan still has the first bag framed behind his desk at home as a reminder of his humble beginnings.
How Stefan scaled KNKG
Initially, Stefan treated KNKG as a way to stay busy in his free time from the research lab. Over time, he became increasingly interested in the mechanics of running a business, like handling the finances and developing new products. And as KNKG started to gain traction, he saw that his side hustle could actually be a full-time business.
To get the word out about KNKG, one of Stefan's strategies was sponsoring events like gym throwdowns and gifting the product to the popular, well-liked gym goers and athletes. When these athletes won competitions, King Kong bags got more exposure. He also ran Facebook ads and published blog posts to get people from the CrossFit community to his website. 
Word of mouth was a huge reason for KNKG's growth, too. During Black Friday several years ago, Stefan noticed that sales really started to ramp up. "Over the years, a lot of other functional fitness communities have identified that they saw something in those KNKG bags. So we've moved into powerlifting, into Strongman, [and] MMA. So I think the customer today is far more diverse than it was 12 years ago," Stefan shared. 
Why Stefan chose OpenStore Drive
When Stefan started looking into potentially selling his business, he came across OpenStore and we quickly connected.  While Stefan was initially seeking a sale, he was more interested in OpenStore Drive, our offering that lets Shopify business owners transfer operations to our team of e-commerce experts for 12 months. Stefan gets to maintain ownership of the business he started and gets guaranteed passive income payments from us every month. 
Stefan shared why he was excited by OpenStore Drive: "What I liked about that was, first of all, KNKG is my baby, so I wasn't ready to hand it over entirely. Then also the OpenStore advantages of specialists in all the different areas—supply chain, operations, advertising, and marketing."
OpenStore Drive allows owners to turn their businesses into passive income. Our proposals outline 12 fixed monthly passive income payments (before our management fee) that you will receive over the course of a year. After 12 months with OpenStore Drive, Stefan will have the option to continue with OpenStore Drive, sell his business, or resume day-to-day operations at KNKG. 
"I expect to have a lot of free time…I'm just going to start another brand"
The beauty of OpenStore Drive is that it makes it possible for founders to take time off to spend time with family, travel, or start something new, while still owning their business. Stefan shared his plans for the next 12 months: "Now that I'm not running KNKG, I expect to have a lot of free time. But this entrepreneurial game has gotten under my skin and I'm just going to start another brand and see if I can offer something to OpenStore in the next year or two." 
Cheers to Stefan for building such a wildly successful business that gym-goers all over the world love (myself included!), and for successfully handing over the reins to us - even if temporarily - as he starts another e-commerce business.
Frank Kosarek
Merchant Success