Founders' stories
/ 7 min read
How a 22 year-old founder sold his Shopify drone store for millions

Adrian Alfieri
Jan 11, 2023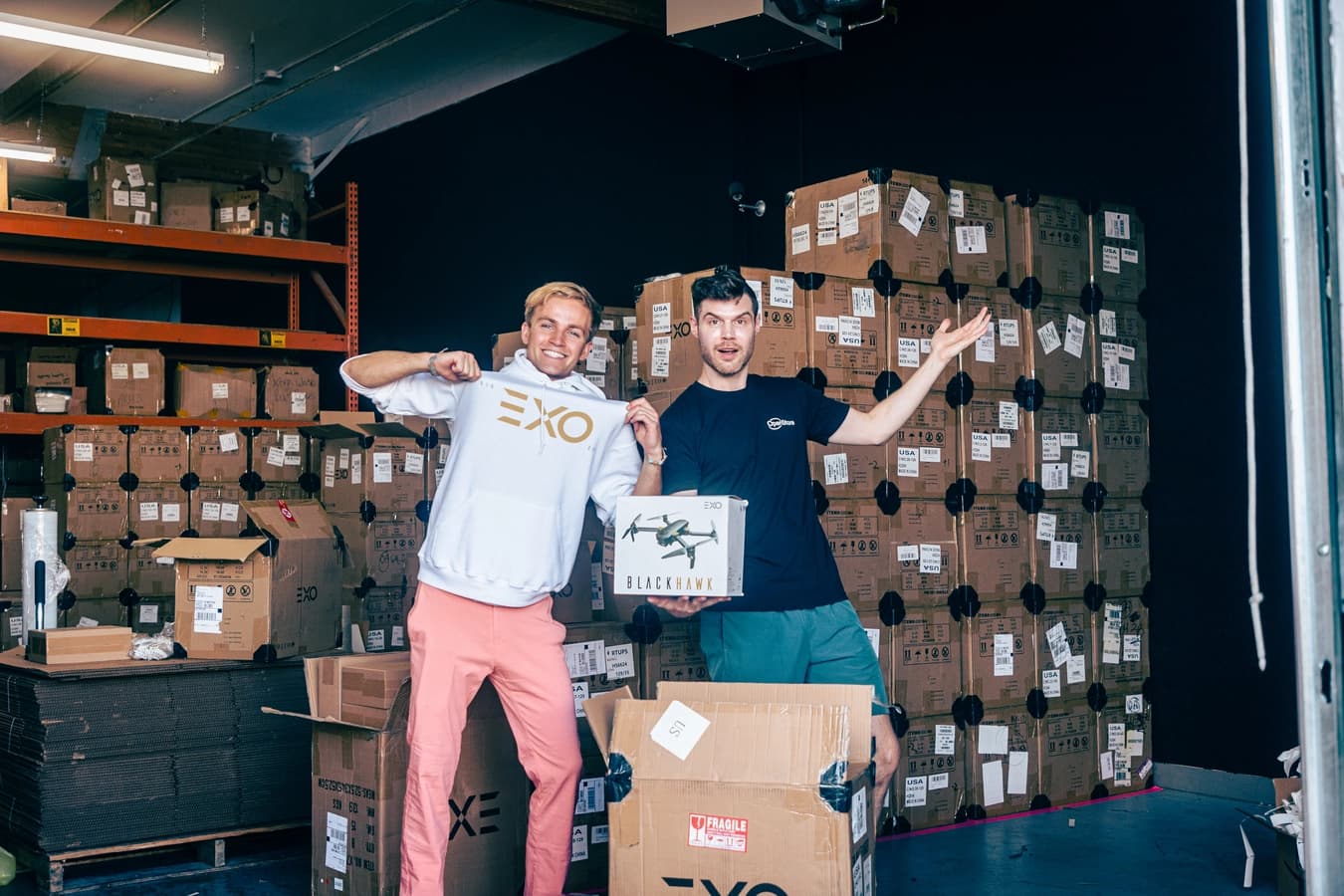 ‍EXO Drones is the premier brand for high-end, affordable drones. Whether you're a hobbyist, a creative, or a professional, their easy-to-fly drones and live user support have you covered. 
The company was acquired by OpenStore in August 2022 for $2.9M in an all-cash offer.
We sat down with Charlie Cannon, Founder of EXO, to hear how OpenStore seamlessly acquired his business and provided the seed capital to launch his next Shopify storefront.
The first piece of our two-part conversation dives into: 
Exo's growth curve: finding product-market fit immediately

Meeting OpenStore and turning down legacy brokers

How EXO's exit is funding Charlie's next venture
"After choosing OpenStore, I sold my business in two months — a year sooner than I expected. That year of my time is worth millions to me." 
The EXO origin story: nailing product-market fit
Before Charlie considered entrepreneurship, he was, first and foremost, a filmmaker. 
He'd taken a gap year from college to shoot a movie and successfully broke even — except for four damaged drones. He called user support and had, in his words, one of the most angering conversations of his life. 
Soon after, he realized there were only one or two names dominating the entire drone industry. 
That meant they could get away with imperfect products and, yes, shoddy customer service. 
The ecosystem was primed for a new player. And he was an ideal candidate — for three reasons: 
Firsthand experience as a user — As a long-time user of drones, he was intimately familiar with everything brands could do right and wrong. 

Prior e-commerce knowledge — By June 2020, he'd already experimented with a few e-commerce ventures (like dropshipping) to occupy himself during quarantine. He had the necessary fundamental knowledge and the skills to teach himself. 

The right product — Through ample research, he realized he could make far more affordable drones while maintaining the right specs. (4K video, three-axis gimbals, etc.). 
Everyone else was failing to deliver affordability and top-notch customer support. So, Charlie would have to do it himself. 
Scaling the brand to profitability
Using online research, lots of trial and error, and his video and storytelling skills, Charlie cobbled together an appealing website. 
Next, he held true to his promise: selling drones at an unmatched cost for the level of tech. 
At that point, the most popular drone products on Google Ads were either overpriced or completely subpar. There was nothing in the middle. So, if the leading brand's cheapest SKU started at $400, EXO would start at $200. 
Soon enough, that $200 model caught on and generated huge cash flow, considering Charlie started with little seed money and no credit score. 
Things accelerated even more once he published some Facebook ads. 
In about one week, they saw $4,000 in sales. He could barely keep up with reordering inventory. 
At one point, he traveled to Vermont to shoot drone content and checked his phone at the end of the day. They'd made $3,000 in 24 hours. 
"We'd get more inventory, then sell out of that in, like, a week," Charlie recounts. "I had to hire my first team members. It all just kind of snowballed." 
"We had made almost a million dollars in profit in two months. I was a freshman in college. It was crazy. It was everything I'd ever dreamed of." 
Meeting OpenStore: how to find the right buyer for your brand
In 2021, EXO's small team decided it was time to clean up the business. They began prepping everything on the back end to scale into a potentially billion-dollar company. 
They lost focus on front-end ops, namely marketing — which had been their only source of acquisitions and profitability. Their expenses quadrupled as a result. 
The company broke even for four months while Charlie fixed ads and customer service. "It was just getting to be too much work," he remembers. "We had so much debt. No one was having fun anymore. It was very much a grind." 
EXO was positioning themselves to become the next billion-dollar drone brand. 
But Charlie knew what that experience would look like — and he wanted no part of it. So, they resolved to build their numbers for the rest of 2022 and sell the whole thing. 
Turning down traditional brand buyers
Charlie approached multiple brokers before submitting EXO's information to OpenStore. 
He quickly realized a traditional buyer wasn't the solution. 
Initially, the team hoped to keep polishing EXO until January 2023

After that, they'd have to wait 3–6 months for someone to buy and close

Then, they'd likely ask Charlie to stay for six months of the transition period

At a glance, working with a broker would lock him in for another year and a half
To put it simply: Despite dropping out, he was still a typical senior in college. He wanted to be free ASAP to spend time with friends before everyone went their separate ways. 
A traditional buyer wouldn't be able to give him that. 
He knew selling immediately would be the right move. 
"All we needed was enough capital to start the next business. I didn't tell anyone I went to OpenStore, because I had a feeling something good would happen here." 
Why OpenStore was the perfect home for EXO
Having gone through our acquisition process, Charlie highlights three reasons why any e-commerce founder selling their business should turn to OpenStore. 
A straightforward process — no strings attached
He breaks down the timeline of selling and closing with OpenStore: 
On June 27, the EXO team decided to sell

OpenStore came back with a sizable offer on July 6

They (unofficially) closed 1–2 weeks later — around mid-July

Both teams conducted due diligence and negotiated payment terms

They signed the final APA agreement on July 25 — 29 days after deciding to sell
OpenStore wound up purchasing EXO Drones for roughly $3 million. Once Charlie realized we were serious about "no earnouts" and "fast cash", he was fully onboard. 
He only has to stay with EXO for about two months to facilitate the handoff. In comparison, he'd expected the transition to take anywhere from six months to a year of obligation. 
From end to end, he'd describe selling to OpenStore as "super chill." 
OpenStore's model is the antithesis of flaky brokers
While considering potential buyers, Charlie was concerned about undergoing a months-long process — due diligence, transferring assets, etc. — only for the other party to back out. 
"If that happened, we would've run EXO like shit for three months," he explains, "because that process took so much time. And they'll do that. They try to fuck up your sales to get a lower price. That possibility scared the hell out of me." 
In comparison, OpenStore approached him with a serious offer and intent to execute. 
He knew that, as soon as both teams signed that contract, he could count on us to: 
Purchase everything in their inventory at a predetermined price

Deliver his funds ASAP, including a chunk of the amount upfront

Effectively take over EXO in no more than two months (as promised)
Your brand will be in capable hands — for the long haul
Charlie admits he was skeptical that any buyer could effectively take over EXO — much less continue scaling it. After all, consumer electronics brands are uniquely difficult in having to juggle software, international shipping, customer tech support, etc. 
He was pleasantly proven wrong once he met the OpenStore team. 
Not only could they recoup the cost of acquisition, they were undeniably smart enough to grow the company in ways he couldn't on his own. 
"After actually meeting with them, I realized, 'This team is very qualified.' OpenStore has picked out a lot of really good, really smart, and really hard-working people." 
For instance, he emphasizes how OpenStore is willing to match the energy of the startups they acquire. If a task was dire, our team wouldn't hesitate to reply to emails at 10 PM. 
"We decided to sell on June 27. We got the offer, did the due diligence, and signed our final OpenStore contract on July 25. We literally sold a month later." 
How OpenStore provided the freedom (and cash) to start fresh
Looking forward, Charlie explains how OpenStore has set him up for his next e-commerce project: 
"We get to start over — zero rat's nest. We get to build something with the e-commerce experience and the infrastructure to scale from day one." 
He's working on a brand to disrupt the skateboard, longboard, and electric board industry. As he describes it: "I know we can build a nine-figure company out of this product." 
In addition, this brand will accomplish another lifelong goal of his: protecting the planet. 
At the moment, he anticipates using anywhere from 25–50% of their forthcoming profits to contribute to environmental causes. 
He's excited to get started in earnest. And none of it would be possible without the freedom, peace of mind, and funding provided by OpenStore's acquisition of EXO Drones. 
"The OpenStore team can run this company. I'm getting out of the business. I get to do what I really care about now and try to change the world."