OpenStore Doubles the Size of its Miami Headquarters

OpenStore Staff
Oct 27, 2023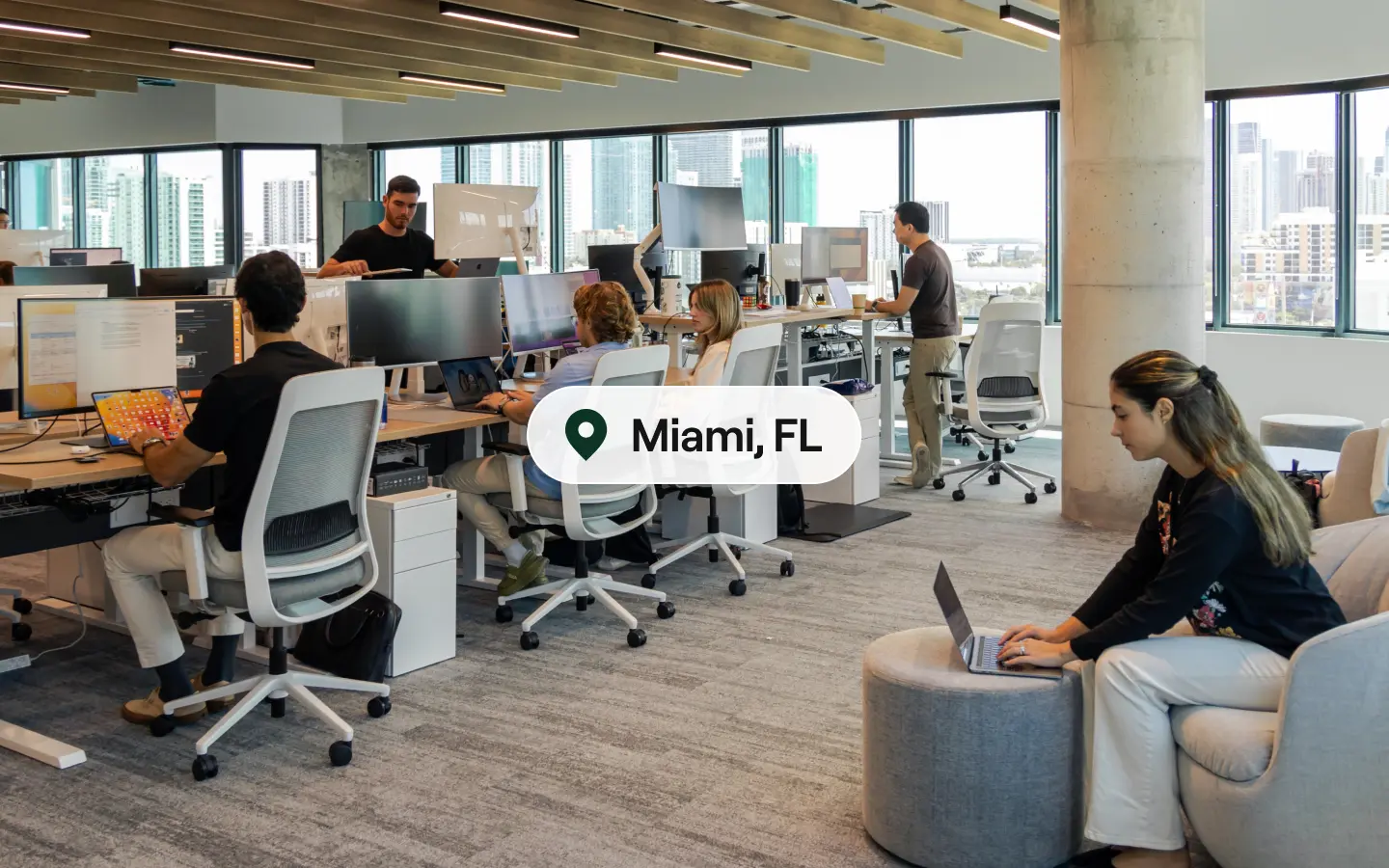 Today we're excited to share that we're expanding our horizons at OpenStore, both literally and metaphorically, by moving into a beautiful, newly completed office space in the heart of Miami. This expansion signifies our commitment to reimagining e-commerce for entrepreneurs and shoppers, our role in the growing Miami tech scene, and our belief that the best companies are built in person. 
Building in person
With our new space, we've created an environment to inspire employees to do their best work and easily collaborate with one another in person, living out two of our Operating Principles: Compress Time and Play to Win. Serendipitous conversations and spontaneous meetings are some of the benefits of working in person. Building a company side-by-side with your team is also the easiest way to learn by osmosis and develop other skills.
Located in the Wynwood Arts District, our new office is nearly double the size of our prior space, coming in at approximately 27,000 square feet. The office offers panoramic views of the Miami skyline and conference rooms named after well-known DJs and artists, paying homage to Miami's vibrant music scene. From "Paris Hilton" to "Main Stage," and our CEO Keith's favorite, "Kygo," these rooms offer spaces for creative collaboration and brainstorming sessions. 
‍
Supporting Miami's community and tech scene
As a thriving and vocal part of the Miami tech scene, our office and team encourage local community engagement and support for small businesses. Our employees established OpenArms, an employee-run volunteer program to give back to the local community. And we've stocked our kitchens with beverages from some of our favorite local businesses, such as Great Circle Coffee Roasters, Panther Coffee, and Radiate Kombucha. 
Speaking of community engagement, OpenStore remains bullish on Miami's tech scene. About 80% of our 125 team members are based here in Miami, with 75% of our employees having relocated to Miami to join the team. We are also building out a hub in the South Bay in California with Miami remaining as our HQ and center of gravity. We have plans to hire an additional 15-20 people before the end of the year. 
We're just getting started
We've made running and selling a Shopify business easier than ever, and in doing so, paid millions of dollars to entrepreneurs all over the country, freeing them up to take a break, spend time with family, or start something new. Nearly two million shoppers have discovered and purchased unique products in our portfolio, which spans apparel, beauty, home and decor, electronics, and more. As we welcome more products into our portfolio, we get closer to our vision of bringing serendipitous discovery to online shopping.
We're excited about this new chapter and can't wait to reimagine the world of e-commerce together. Want to join us? Check out our openings across Design, Marketing, Engineering, and more.