How OpenStore increased Jack Archer's revenue from $1M to $10M

Andrew Silard
Sep 13, 2023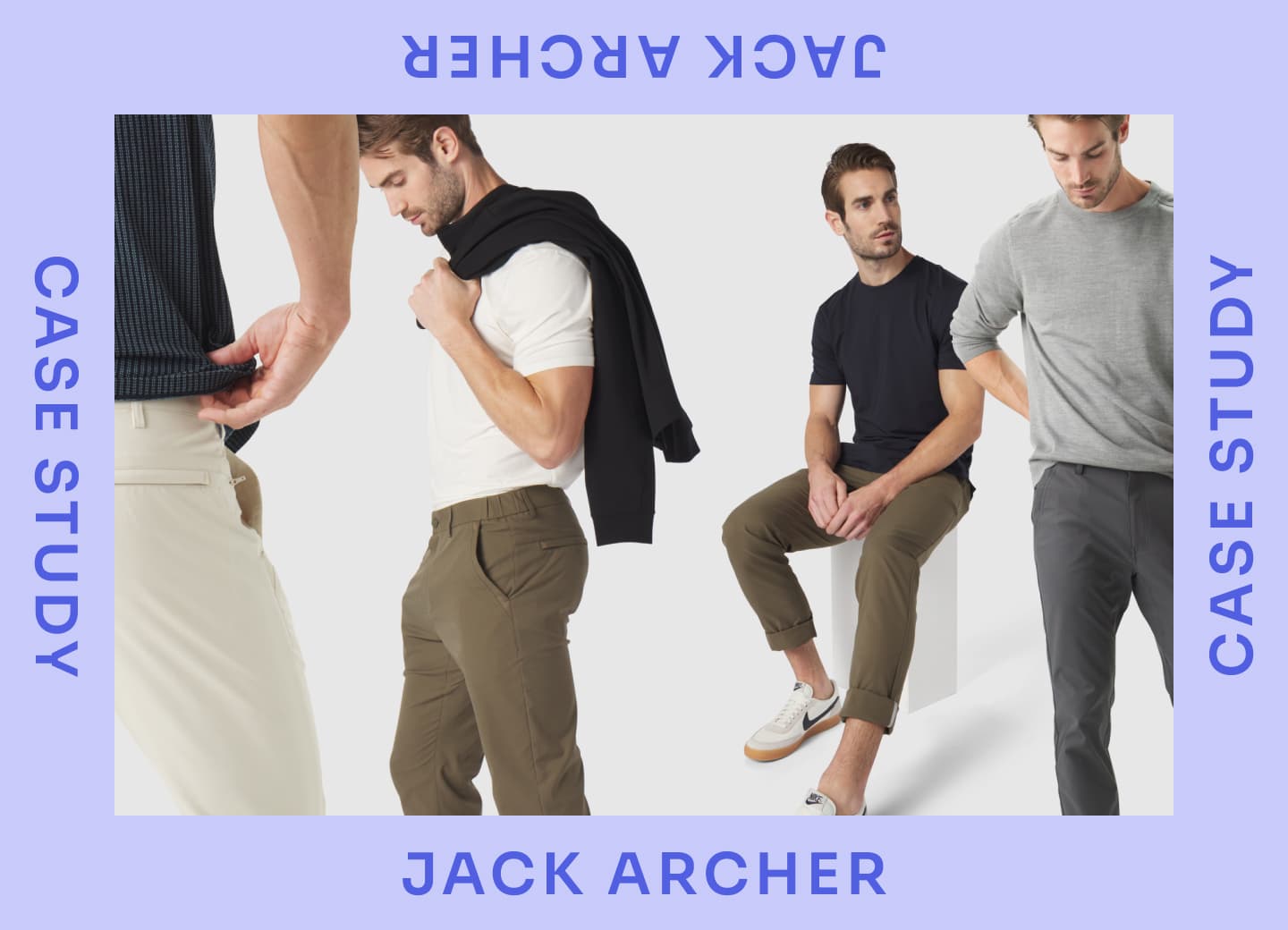 Grew revenue from $1M to $10M in 9 months

Tested new creative, including 600+ video ads

Built an iOS app, which drove 19% more repeat purchases versus the site

Increased orders by 200% for shoppers who used an AI-sizing recommendation tool

Launched new SKUs and ran pricing tests
In 2022, Miguel Facussé, the founder of the popular men's apparel brand, Jack Archer, knew he was on to something. His Shopify brand was a success story by many counts: it was bringing in $1M in revenue, its flagship Jetsetter Pants were a hit, and Miguel had happy, repeat customers. 
In order to keep up with customer demand and grow his store even further, he realized he would need an influx of capital. After learning about OpenStore's fast and easy acquisition process, he decided to sell Jack Archer to us for just under $1 million, giving him capital and freeing him up to start new e-commerce businesses. 
With Jack Archer now a part of the OpenStore portfolio, our team quickly got to work to grow the brand, drawing on learnings from running the largest number of Shopify brands in the world and our team's expertise from places like Amazon, Wal-Mart, and Wayfair. Nine months after running Jack Archer, we scaled its revenue past $10M. Below, I'll share some of the main strategies we used to grow the brand.
Running hundreds of video ads at scale and unlocking new channels
To optimize paid search on Google and paid social across Facebook and Instagram, we took dynamic ads to the next level. We built internal tools that enabled us to launch, run, and iterate on catalog ads at scale. We dynamically combined and optimized Jack Archer's top-performing products, creative assets, and calls-to-action. During the first year, we used consumer insights to develop 600+ video creatives. We ran extensive tests with those ads to determine which were the most successful in driving results. 
Our Marketing team also experimented with SMS marketing campaigns. We launched a VIP program via SMS, giving customers early access to product drops, resulting in a record-setting click-through rate. We also launched in-SMS checkout to combat abandoned carts, which increased revenue 10x compared to the previous setup.
Building an iOS app and improving size recommendations
As a tech company, we often build tools, create automations, and leverage existing technology to drive efficiencies and grow the Shopify businesses in our portfolio. One key way we scaled Jack Archer was by building a custom, native iOS app for shoppers. 
Our engineering team developed infrastructure that lets us create custom iOS apps for brands in our portfolio, all customized to the brand's Shopify storefront theme. Given Jack Archer's customers have an affinity for the brand and many are repeat customers, we were confident an app would spark even more growth. 
As of May 2023, customers making in-app purchases were 19% more likely to return to the app to make another purchase in the same month, and 16% more likely to return the next month, versus the website. 
We also implemented artificial intelligence. For apparel brands, one of the top reasons for returns is customers receiving the wrong fit. In order to improve the customer experience and decrease return rates, which can be costly, we implemented an AI-powered sizing and fit recommendation tool, increasing orders by more than 200% among customers who used the AI-powered sizing tool. 
Increasing profits through price testing
Another strategy we deployed was running price tests on Jack Archer's most popular product, the Jetsetter Pants. We had a hypothesis that reducing the price of the pants could yield a higher order conversion, therefore, increasing profit. Through our price tests, we found that lowering the price of the pants significantly increased Jack Archer's total profit. 
In addition to price testing, we ran more than 20 conversion rate optimization tests and added a sticky promo ribbon to the site as well as customer reviews to help get shoppers through the funnel. 
Developing new products
Since Jack Archer's loyal customer base wanted more product lines from the brand, we introduced new merchandise. We launched the Anytime Tee, designed to resist fades, tears, pilling, and wrinkling. We also released the Jetsetter pants in a new color, Olive Green, based on customer feedback. Today, the Jetsetter Pant in Olive Green is the brand's most popular SKU. 
Next, we introduced the Weekender Bundle, which lets shoppers buy a pair of Jetsetter Pants, an Anytime Tee, and a pair of boxer briefs at an affordable price point. Bundling these products helped increase average order value (AOV) and conversion.
OpenStore can help you grow your Shopify business
If you're looking to level up your Shopify business, check out our different offerings: 
Sell your store. If you're ready to sell your business and move on to something new, see if you qualify for an acquisition offer. If we make an offer to buy your store, you can get paid and move on to your next adventure in as little as two weeks.

OpenStore Drive: Turn your business into a source of passive income. Get guaranteed monthly payments and time back to relax or start something new while we run your business for you.